Dongle has now become a must have auxiliary product for anyone which helps a lot to get better output from even a phone. Sometimes it may not be possible to buy or carry an external big size amp/dac or dap when you are travelling
Dongle has made that easy. From the beginning of the release the m15 has attracted so many people that i also wished to check it out

Previously I have used dongles but those were not as pricey as this one. So I was a little bit worried about whether it would be able to give me performances according to its price . The price was about 250$. But later I got relaxed after experiencing the Questyle M15
There was another dongle m12 from the same company at half of it's (M15) price which was also a good dongle as far as I am oncerned.Yeah I cannot afford all the dongles but i always keeps updates from local friends and colleagues.

Specification:

OPERATING SYSTEM REQUIRED
Android phone and pad: Android 5.0 and above
PC: Win10 1803 and above
Apple cellphone: iOS (You need to buy an OTG cable for Lightning to Type-C.)
Apple computer: mac OS

DAC CAPABILITY
PCM: PCM: 32kHz – 384kHz (16/24/32Bit)
DSD: DSD64(1 Bit 2.8MHz) , DSD128(1 Bit 5.6MHz), DSD256(1 Bit 11.2MHz)

When playing audio, the data status indicator will illuminate one of the following colors:

Green: indicates the audio sample rate is 48kHz or less.
Red: indicates hi-res lossless playback.(Hi-res lossless refers to PCM 88.2kHz~384 kHz, or DSD64~DSD256.)
Magenta: indicates the M15 is performing the final unfold of an MQA Core stream.

OUTPUT INTERFACE
3.5mm standard headphone jack x1
4.4mm balanced headphone jack x1

OUTPUT POWER
3.5mm:RL=300Ω,Po=11.97mW, Vout(Max)=1.895Vrms,THD+N=0.00045%
4.4mm:RL=300Ω,Po=22.60mW, Vout(Max)=2.624Vrms,THD+N=0.00057%

FREQUENCY RESPONSE &THD
Frequency Response: ±0.1dB(20Hz-20kHz)
THD + N:0.0003%
DAC:ESS flagship USB DAC chip ES9281AC

Features:
DAC Capability
Low power consumption, no overheating
Long battery life, longer playback
Unparalleled ease of use
Plug-and-play, no drivers needed
Your HiFi, anytime, anywhere
Metal housing, transparent cover
Minimalist on the outside, stunning on the inside

The M15 contains two of Questyle's patented CMA (Current Mode Amplification) SiP modules, for a total of four CMA amp engines. This quadruple drive amplification circuitry gives an outstandingly strong output that can drive almost any headphone. Questyle's Current Mode Amplifiers are characterized by their small footprint, low voltage operation, and minimal power consumption. Current Mode amplification has a naturally low impedance, affording the M15 a bandwidth up to 1MHz, distortion as low as 0.0003%, and the ability to reproduce every detail hidden deep within any track.
 

Unboxing:
Unboxing Experience was quite interesting for me. Come in a premium small black box . It was wise of questyle to use a small and light weighted box because in my country tax is sometimes implemented on the size of the box.
I got an extra type C to Ios cable & Black Leather Case (worth of 25$). But the original package does not have the ios cable. Apple product users need
to buy that cable separately at 20$
Usually the following items comes in the box
 


1 x Questyle M15 Ultra Portable USB DAC/Amplifier
1 x USB Type-C to USB Type-C Low Profile Cable
1 x USB Type-A to USB Type-C Low Profile Cable
1 x Print Material (Instruction Manual & Guarantee Card)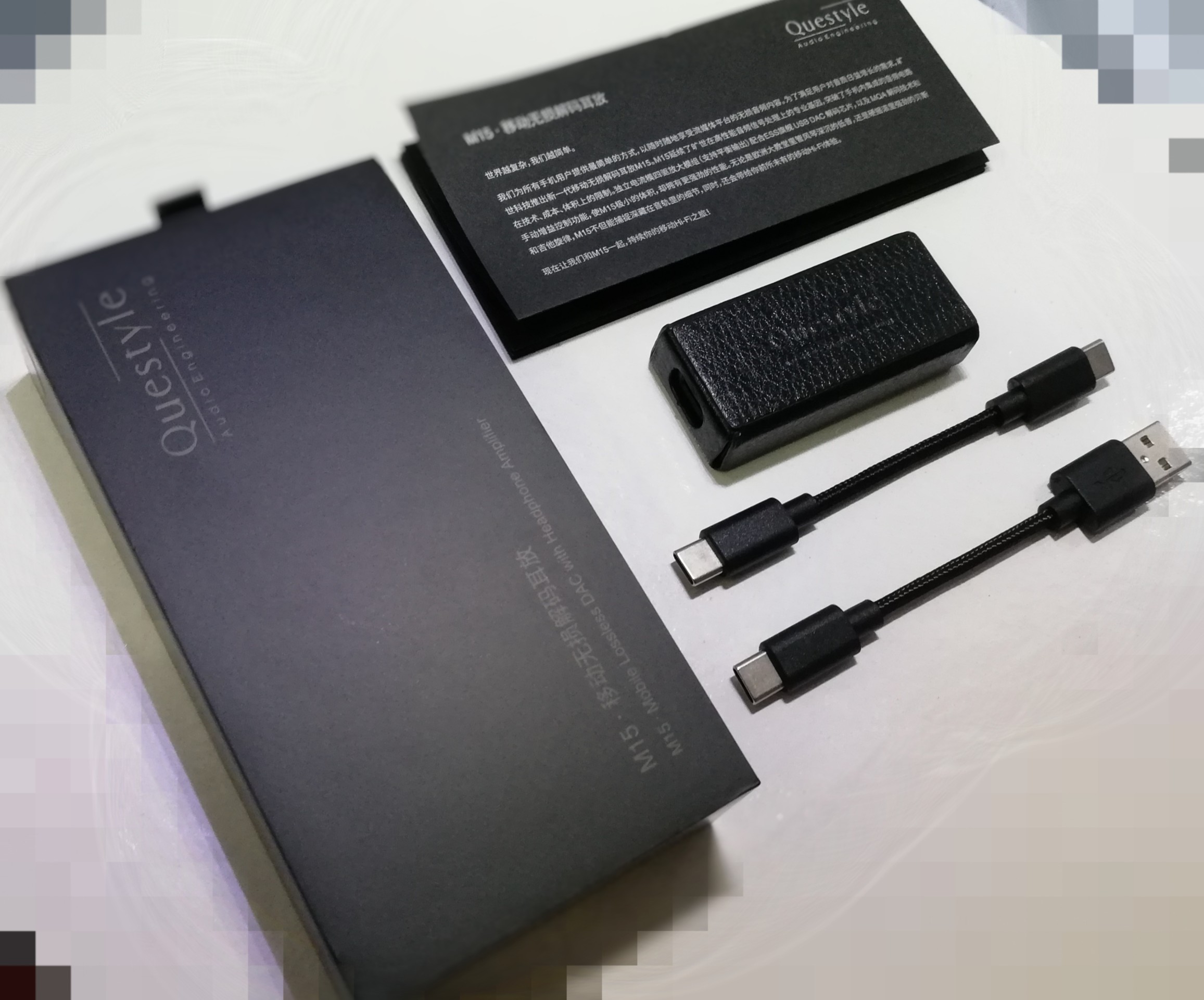 Appearance:
Small , handy , Compact size . Very light weighted. One of the side of M15 was covered with a glass faceplate which tends to see the inside beautiful structure of the M15
It also represents the transparency of the questyle that truely used inside the dongle. There are 2 ports on the dongle.
One is 3.5mm Single Ended (with CTIA support for headphones featuring phone calls) and the other one is 4.4mm balanced TRRS port. One the corner of the m15 there is a button to adjust the gain with high and low.
I was disappointed that there is no volume rocker button. I mean it is not mandatory but it helps sometimes. One the bottom of the m15 there is type c port to bypass the sound


Sound Impressions:
I have Actually used the high gain mode all the time when using the m15 with iems.its seems High gain always gave better output with great resolution to me. When using in high gain mode I have to set the volume to 50% . Its could be easily understand that the output has great amping capacity as well

The device I used was Samsung galaxy note 8 and my laptop. As mentioned on the specification I do not need any driver to install to use M15
The provided type c cable was good but I tried other type c cables as well. Those work perfectly without any issue. I liked the dd hifi tc05 instead of the stock cable. But I must say the build quality and material of the ios cable (Which needs to buy separately at 20$) was much better than the stock type c cable

When i first plugged the m15 in my mobile and played a song from spotify I was feeling what is this, is that the small chilli with extreme hot. The details , the energy , the transparency , the separation (although provided by the IEM,but I got better using the m15 that couldn't be found with others dongles) was too much good
I am an iem guy so all of my testing unit was iem.

Questyle m15 is a kind of neutral sounding dongle, Sound is natural and crystal clear, Good clarity.
It was providing a non-colorized sound. very detailed and wide
While using it with IEMs in my room i didn't get any background noise with 50% Sound. It was like I was sitting in a quiet place.
It has really surprised me because I have never found my iems can detach me from the sound of the world. M15 got me recognized to my iems with their new identities.Because usually i didn't get this kind of good result
My Iems were Little dot cu red, Rose technics QT9 M2ks/QT 7 pro 2 , Tralucent 1+X plus 10th year Edition, tri audio meteor, Kinera skuld, Anew x1, Shanling
m15 was also providing me a holographic realization while listening to music and giving me synchronous rhythm.
There was not any hissing or noise while using it.
 


The way it was delivering sound from low to high without any compression was really superb
Bass was good as well.Punchy, Not boomy.Sound does not fatigue. For me, excess bass could cause a headache. so bass was in good amount from the m15
I have tried to play some only vocal songs to better understand the vocal.Both male and female were great on the m15. The residue voices while finishing a line and about to start the next line was easily audible.
For songs with music the Voices were forwarded then the other instruments and I could easily separate where the instruments were playing.There were remarkable spaces between the instruments with good texture.
The way m15 upscale the whole music to upper grade without any issue was not only good but excellent. Airy vibes were present there as well
But sometimes I was facing some issues with treble. It was providing high pitch on some songs which really hurt my ear.
The soundage reproduction was accurate and had good depth.

I have sometimes used the m15 for about 3/4 hour at a stretch. The battery drain of my Samsung galaxy note 8 was minimal. The heat generated on m15 was very much low. I have used the leather cover with it. But i have checked the dongle temperature by removing the cover also. Does not produce any excess heat
It got heated slightly
 

Conclusion:
I would like to rate it 5/5 after examining it for a long period of time.As I keep news about the local audio market in my country I get to learn that people are going crazy behind it. This has become their first choice if the budget is not a problem to them.
Spending 250$ for it is worthy but i would like to get a better type c to type c cable at this price point. Also Iphone users have to pay an extra amount of money for the ios cable. That could be provided free like some other brands.
I am hoping that the M15 will be my daily driver from now on . Because the output it is providing according to size is really praiseable.
For many people it was a problem for them not having a volume rocker button but i didn't miss the volume button that much. Yes it was needed for me to increase the sound sometimes but i could increase from the phone

Highly Recommended. The Questyle M15 can be bought directly from Questyle or from local dealers. Questyle has many dealers around the world.